About Us
Here at Nay Dental, we believe that a smile tells a thousand words, and we are dedicated to giving our patients high-quality dental care. We offer a full range of dental services, so all of your family's needs are met under one roof.
Our goal is for you to leave our office with a memorable and enjoyable dental experience, which is why our welcoming and compassionate staff will do everything they can to make you feel right at home.
If you are looking to brighten and enhance your smile, please don't hesitate to contact us today at (631) 423-0298!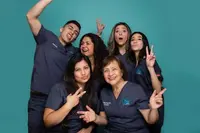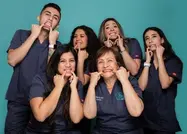 ---
Dr.

Dentist located in Huntington Station, NY

Dr. Liliam Nay of Nay Dental Practice in Huntington Station, New York, offers a wide range of general and cosmetic dentistry services to patients of all ages. Dr. Nay has served the residents of Huntington Station for over 20 years. Dr. Nay graduated from the New York University College of Dentistry in 1999. Her extensive experience allows patients to have all of their dental needs met at a single location, and the warm, caring professional atmosphere makes it a pleasure to go the dentist. Dr. Nay is an active member of the American Dental Association, the Suffolk County Dental Society, the New York State Dental Association, the Academy of General Dentistry, the FDI World Dental Federation and the New York State Dental Association. She is fluent in English and Spanish. To better serve her patients, she offers free consultations and extended hours, including evening hours five days a week.

Dr.

Dentist located in Huntington Station, NY

Dr. Kareema Roushdy is a compassionate and friendly new addition to the Nay Dental team. She strives to treat her patients with top-tier dental care and assuring that they are comfortable in the dental chair. Her passion for dentistry stemmed from her love of art, and her willingness to help those in need. She aims to have a light, friendly atmosphere while addressing the patients
main concerns.

Dr. Roushdy graduated from Tufts University School of Dental Medicine and completed a General Practice Residency at Coney Island Hospital. She is a member of several organizations including the American Dental Association, the Academy of General Dentistry, and the second district Dental Society of New York

During her free time, she enjoys making art through oil painting and resin art. She also enjoys challenging her culinary skills by exploring various recipes from different cultures. Dr. Roushdy is also a strong advocate for a good work-life balance and cherishes the time she spends with her family and her dog Fresca.

As an undergrad at NYU, Esmeralda majored in sociology and minored in chemistry, focusing on disparities in health care. After graduating in 2015, she carried those interests with her to NYU's College of Dentistry. To relieve some of the pressures of the demanding four-year program, she plays squash at the gym and soccer with members of NYU's recent alumni network. When out-of-town friends come to visit, she takes them to Brooklyn's Dumbo neighborhood, where she says she likes the perspective of "seeing the two bridges, and what Manhattan looks like from the outside."

She dreams of someday practicing dentistry in a warmer climate—California, maybe—but at this point is trying to keep an open mind. "I'm open to going pretty much anywhere," Esmeralda says. "Doesn't everyone always seem to find their way back to New York, though?

Melissa

Nay RDH Dental Hygienist

Melissa has been a Dental Hygienist since 2006 and got her Bachelors in Life Sciences and Biology at NYIT. She lives with her two kids and her Husband and loves to spend time with them during her free time.

Melissa always strives for perfection. Always wanting the best for the office and her patients she wants everyone to feel like family when they walk in the office. She's been dedicated to Nay Dental for over 10 years, making sure everything works perfectly and looks neatly. Melissa is also fluent in English and Spanish.

Sebastian

Dental Assistant

Sebastian is currently majoring in Biology at Stony Brook. He wants to become a cardiothoracic surgeon and save lives. He likes to dance and go out with his friends during his free time as well as watch Marvel and Disney movies. Sebastian is fluent in English and Spanish which is very helpful when helping our patients. His favorite food is sushi and he likes to go to the movies. He is always willing to help with any questions you might have. Always with a smile on his face, Sebastian always wants the best for our patients.